Welcome to Ogden Construction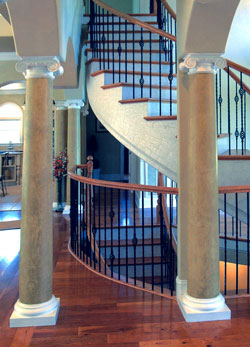 Ogden Construction has earned a reputation as a custom homebuilder by treating his customers with honesty and respect. "It's simple," Shaun says. "I keep my word and do my work on time."
With a background in architectural study, Shaun has developed his love of building and his creativity. He works as his own superintendent, and uses the same subcontractors almost exclusively; elevating the level of quality and workmanship in the homes he builds.
More importantly, his homes are recognized not only for their distinctive design, but also for the exquisite workmanship that goes into them. Workmanship that Crescent Communities has taken note of and have made Ogden Construction a selected approved builder. Ogden Construction understands how to build a home that is both functional and beautiful, and his dedication is evident in each and every home he builds.
Ogden Construction builds gorgeous gourmet kitchens; lovely screened outdoor living areas, huge bonus rooms, master suites and much more. Ogden also always plans during the early design stages to accommodate clients as their needs, and wants, change over time. These are just a few reasons why so many have chosen Ogden Construction.
---
Custom Home Builder | Charlotte, NC
Ogden Construction provides custom home construction and remodeling to Charlotte, Mooresville, Morganton, Gastonia, Kannapolis, Davidson and Rock Hill, NC as well as the surrounding areas.